Notes from Lonestar Elixir Conference (2020)
Great conference. Great community. 10/10 would attend again.
Community affects the software we build

"So much about building software—more than anyone wants to admit—is etiquette" - Paul Ford

Thinking, Fast and Slow - Daniel Kahneman
Loss > Gains
People feel empowered to make decisions when they feel confident
Status Distance === Bias
Fluency Hueristic = better it sounds, more likely it is to "win" (aka the best ideas don't always win)
Clear expectations of behavior
Language matters (be careful what you say)
ElixirBridge - outreach for underrepresented people in tech
Used Spectacle for slides
Everyone has limited knowledge, but unlimited potential
All Aboard the Stateful Train - Eric Oestrich
ExVenture - MUD server (very stateful)
Grapevine- MUD Community (think steam for Elixir)
Stateful = less database, more OTP
Using GenServers as the basic building blocks
:ets for caching (rather than Redis) and occasionally write state to a database for re-hydration (when things go wrong; still use the DB as the source of truth)
Kalevale (new ExVenture)
Getting the Frog Out of the Well - Zach Thomas
more things suck, less productive you become

"Sure, we could talk about aesthetic resonance a bit if you prefer that?" - Zach
Tests Friend or Foe? Chain or Cable? - Mark Windholtz
Spoiler: Friend
Cables: connect two far away points (UI to DB; ~integration tests)
Chain (or chain of links): unit tests for business logic that test every conditional branch (think chain mail, rather than linear linkage)
A Set of Unit Testing Rules - Michael Feathers (basically test pure functions)
From Bootcamp To Elixir Contracts: A Road Less Traveled - Melvin Cedeno
"We are just statistics, born to consume resources." - Horace

Docker will consume the world if you let it
Wireless communication:
VintageNet - new Nerves networking library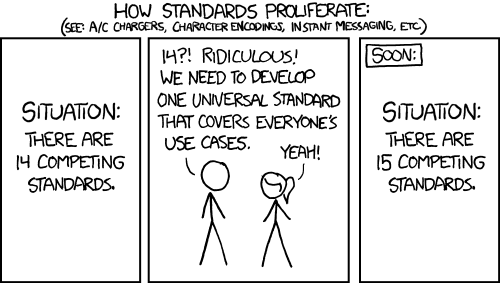 The Grand Bank of Jon Jon - Jon Carstens
Physically-Based Rendering Using Elixir - Jason Stewart
Can we make a 3D rendering engine in Elixir? Yes. Should we? Maybe.
Results: slow, but faster than expected
Check out The Register
We don't need malicious motivation to create systems that enable entities to cause harm. Something as simple as "profit" is reason enough.
Browser Automation Testing: Best practices - Best tools - Vanessa Lee
(ArguementError) - used for so many errors
ETS - an Elixir wrapper for :ets
Nobody: Literally No One: Me: Let's Write CSS in Elixir! - Ben Wheat
Scenic - Elixir's graphic language
Idea: try using scenic rather than Electron for desktop apps
Why You Should Use Nerves for Your Next (or First) Hardware Project - Todd Resudek
Brook: Distrubuted event-driven library for Elixir - Jeff Grunewald
"The Microservice Actor" - the actor model gives microservices (almost) out of the box
GenServer.abcast/3 or GenServer.multi_call/4

Steps:

Event bus

pub/sub broadcasting
unified view (independent of any service)

Event contract

- message structure (minimal and assertive)


%\{ type: string, author: string, created\_at: pos\_int, data: term\(\), \# like an HTTP body forwarded: bool \}

Serialization
  - message log interface
  - non-BEAM system
  - storage
  - JSON
View state
  - track and view what's needed and who's responsible

Let's Make a Pizza! Batch Operations with Broadway - Michael Crumm
Optimize with production server
Telemetry: By the Numbers - Samuel Mullen
Give people room to be wrong
Practice, practice, practice
Most changes only need 1-2 reviewers
Prefer small changes
Leave fewer comments
How I'm Becoming a Programmer - Dave Thomas
"There are no best practices" - Dave Thomas

Goals:

Happy doing what I'm doing
Developing and learning (as a human)
Changing the world for the better

Happy

You have agency (change where you're working or change where you're working)

Growing
---
Random Conversations